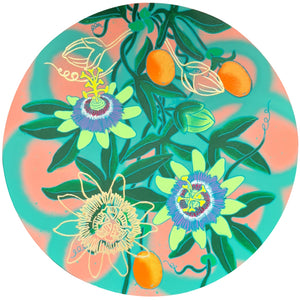 Don't Stop Me Now - Passion fruit flower
Regular price $650.00 Sale
One of the most Glamorous climbers, Passiflora Caerulea, commonly known as the Blue passion flower is a hardy perennial vine. With Exotic beauty, its flowers are captivating, blooming up to 8 cm in size. Flowers are followed by egg-size, deep orange fruit from late summer through autumn. An excellent climber due to its tendrils which twist and coil around plants, fences and other structures for support, meaning this popular vine can become a noxious weed if not controlled.
Blue Passion Flowers are associated with a calm existence.
Acrylic, spray paint, gouache, paint marker pen, and gold leaf on wooden board.
50 cm in diameter